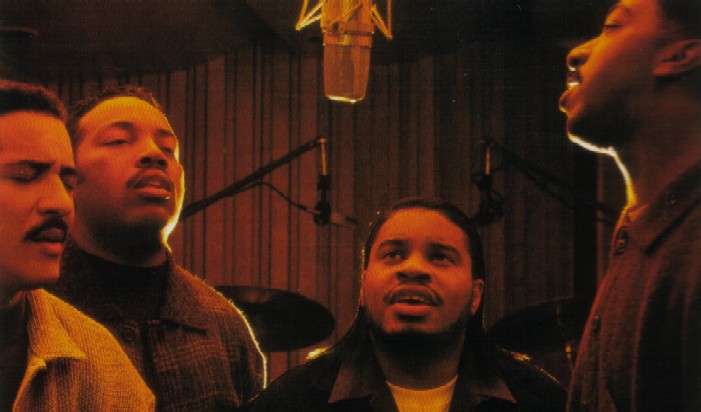 This album from Benson Music was released in 1996. At this time Commissioned was down to 5 members, but if you look at the cover and see only four members, don't be mislead as I was. Most people mistake Maxx Frank as Montrell Darrett, but don't be deceived, Montrell Darrett isn't even pictured (don't ask why or how, I don't even know how it happened).
This album was different from earlier ones. As Fred Hammond left, Commissioned lost a part of its signature round tenor sound. Commissioned also transitioned from an urban sound to more of a R&B sound, thanks to Boyz II Men members Shawn Stockman and Wanya Morris, who wrote the songs "Irreplaceable Love" and "They Must Know".
This album opens and ends with a "meditation" by Maxx Frank, that sounds like you're in a Church of God in Christ or a Baptist church. The next song is "Dominion", and Mitchell Jones, Montrell Darrett, and Marvin Sapp's singing. This song is an example though, of how Commissioned has lost its signature round tenor sound, but Commissioned still does sound pretty good. "Breakin' Away" utilizes Montrell Darrett's rap skills, and also is different than earlier albums as it has more of an R&B sound. "Until My Change Comes" is written by Montrell Darrett, and sounds nice, it even has a round sound as in earlier albums. Maxx Frank does a nice job on the organ. "Do You Still Love Me" is the first of the album's slow, R&B tracks. It sounds pretty good. "They Must Know" has become a favorite of mine. It was written by Wanya Morris, and reminds me of the earlier Commissioned song, "Only What You Do For Christ Will Last", as they both share the repeated lyric "They Must Know". Mitchell Jones does a great job singing the lead on this song, and I like how Marvin Sapp comes in around the end. I also like how "They Must Know" flows into the next track the interlude of "More Than I" composed by Maxx Frank and Mitchell Jones on keyboards. It is a beautiful interlude. The next track, "Irreplaceable Love" features guest Shawn Stockman, who also wrote this song. It sounds pretty good. "No Weapon" is one of my favorites on this album. I like how Mitchell Jones and Marvin Sapp snap on this song! I love the harmony and the beat! "I Can Love Again" has a nice sound, Mitchell Jones and Montrell Darrett sing pretty good on this song. "More Than I" is another of my favorites on this album, I love the lyrics and the music, Mitchell Jones' voice just captivates you. Montrell sounds nice as he lead the song, Karl Reid sounds good (he should've had a longer part), but Marvin sounds great at the end. I like the accoustic guitars played by Tim Bowman and Dave Cleveland. But "Crucified with Christ" is definetly a hit, Karl starts it off and leads beautifully, and I like the singing of Marvin also. Mitchell was definetly singing nice. It doesn't sound as if Montrel Darrett is actually singing in this song - but it did sound like one of the earlier albums in vocal sounds. Maxx Frank's keyboards and the accostic guitar sounded really nice together.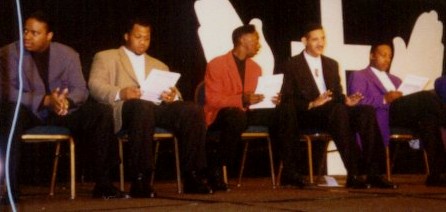 Commissioned from left to right: Maxx Frank, Montrel Darrett, Mitchell Jones, Karl Reid, Marvin Sapp
To the left is Montrel Darrett's solo album, Chronicles of the Soul(1999).
Montrel Darrett is not shown on Commissioned's album on the inside or outside!
Selected Sample mp3 Tracks