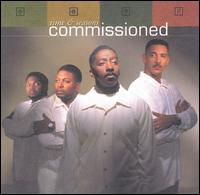 This album was released from Verity Records in 2000.
Commissioned from left to right: Marcus Cole, Chris Poole, Mitchell Jones, and Karl Reid.
This album met the standards of its earlier predeccessors, and has the nice round sound of Commissioned, with Marcus and Chris' younger voices matched with Karl and Mitchell's. This combo gives the nice round sound that Commissioned is known for, and also a nice slow R&B sound. This album is the longest
Commissioned album ever with 19 tracks! This album is nice!
"Barach You" is pretty nice, and is sung by Marcus Cole. I like the lead guitar best. It's a pretty nice track. "Glorious Praise" contains a portion of the song "I Like It", written by Etterlene Jordan, William DeBarge, and Eldra DeBarge. It also features Michael J. Mindingall's Communion Choir (note: Michael Mindingall appeared on Fred Hammond's earlier album Deliverance). The live drums (played by Larry Tucker) and bass guitar (played by Volly Craig) reminds me of earlier Commissioned albums (not including Irreplaceable Love). "Testify" is sung by the two new members of Commissioned, Chris Poole (with the high tenor that sounds a bit like Keith Staten) and Marcus Cole (sounds a little like Marvin Sapp, only deeper). This song also has live drums and bass guitar (played by the same people mentioned earlier), and also features the lead guitar of Eric Brice (who played in earlier Commissioned albums).
"You've Been Good" is also sung by Chris and Marcus, but the lead guitar is played by Darryl Dixon, who also has played for Fred Hammond & RFC. It sounds good, but the background vocals seem dominated by (or sound like only) Mitchell, until they start singing the lyric "You've Been Good" at the end (it sounds rounder). "Trying of Your Faith" is also sung by Marcus and Chris. It sounds pretty good, and Eric Brice (old Commissioned guitar player) sounds nice on the lead guitar. I like how Marcus starts off sounding nice, and Chris - he keeps the rhythm flowing. I like the melody. "Psalms 84" is one of my favorites on this album. I like how Karl sings this song, it is so relaxing. As Mitchell takes the lead, he also makes it sound beautiful, and Chris sings pretty good also, I like his strong voice, Marcus sings good too, but I like how Mitchell just takes off with the song at the end. Lyric: "One thing that I desire, and that will I seek after...", I love that lyric! It's so beautiful! And their singing will have you humming this song for a long time.
The next track "Just Worship" may be short, but is a nice interlude produced by Karl Reid. "Believe" again features Michael J. Mindingall's Communion Choir. Mitchell and Marcus sound nice on this song. This song also has a nice tune. "One Love" has a beautiful melody and is sung by Mitchell Jones and Marcus Cole. It sounds like more of a romantic wedding song though than a gospel song. This song is passionate, and I like how Tim Bowman plays the accoustic guitar (he also played it on Commissioned's earlier album Irreplaceable Love). "Charge It to My Head" sounds good as Mitchell Jones opens singing as Tim Bowman plays, and still sounds good as Marcus Cole takes the lead, this is a nice sounding song.
The last two tracks show that this Commissioned ("of the New Millenium" as stated on the song "Walk Right") can transition between both a crisp round sound like the Commissioned trademark of earlier albums, and also a smooth R&B sound.
"You Stayed With Me Lord" is a Commissioned remake of a song sung by the Soul Stirrers. "Thank You For Loving Me" sounds very nice, Tim Bowman plays the guitar pretty good. Mitchell, Marcus, and Chris sound good. "Ordinary Just Won't Do" is the first ever remake that Commissioned has made of their own songs. It sounds pretty nice, and was given a R&B, (but I really preffer the first version, even over the Reunion version also). "Clean Heart" has nice lyrics, and also includes a that I like (Psalms 19:14). "You Are Forgiven" has a nice tune, I like the voices of Commissioned in this song. Marcus sounds nice in this song. This song's melody is serene. "Walk Right" is a favorite of mine, and is an example of the sound of the "Commissioned of the New Millenium". Mitchell and Marcus' voices sound nice. I love the music - It's NICE!
Selected Sample mp3 Tracks (if one set doesn't work - try the other)
Barach You
,
Glorious Praise
,
Testify
,
You've Been Good
,
Trying of Your Faith
,
Psalms 84
,
Believe
,
One Love
,
You Stayed With Me Lord
,
Ordinary Just Won't Do
,
Clean Heart
,
You Are Forgiven
,
Walk Right
HERE's a COMMISSIONED BONUS SONG
by the "Intra" Commissioned
Karl Reid, Mitchell Jones, Marcus Cole, Montrel Darrett, and possibly Chris Poole
(this song is written by Montrel Darrett, Mitchell Jones, and Marcus Cole)
this link requires Real Player
This song is not featured on any Commissioned albums, and was made in the transitive period between Irreplaceable Love and Time & Seasons