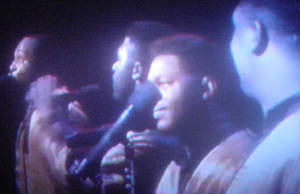 The Winans (from L to R): Marvin, Carvin, Michael, Ronald
The Winans are five-time Grammy® Winners who have won many Stellar® and Dove® awards. The Original Winans were comprised of four brothers: Ronald Winans (1956-2005), Carvin Winans, Marvin Winans, and Michael Winans (by order of age). They are also related to other family Gospel Artists such as BeBe & CeCe Winans, Daniel Winans, Angie & Debbie Winans, Vickie Winans, Winans Phase 2, Mom & Pop Winans, and others.
The Winans have also worked with such artists as Quincy Jones, Barry Hankerson, Andraé Crouch, Bill Maxwell, Teddy Riley, Aaron Hall, Doug and Melvin Williams, Lalah Hathaway, Percy Bady, Vanessa Bell Armstrong, Stevie Wonder, Anita Baker, Thelma Houston, Lalah Hathaway, Howard Smith, Kirk Whalum, Kevin Whalum, Dana Davis, Fred Hammond, Michael Williams, Tim Bowman, Steven Ford, Benjamin "Skip" Pruitt, Paul Jackson, Jr., Lafayette Carthon, R. Kelly, Cedric and Victor Caldwell, Bernard Belle, Lanar Brantley, Valdez Brantley, and more.
NOTE: THIS SITE MADE BY J. LAWRENCE (C) 2003-2010

Chart information courtesy of Billboard.com © 2002 VNU eMedia, Inc. All rights reserved.

GRAMMY ® information courtesy of The National Academy of Recording Arts & Sciences © 2002.
Contact information: This site made by J. Lawrence
When emailing, please use a subject line that relates to The Winans. THIS IS NOT THE WINANS' OFFICIAL WEBSITE, NOR IS THE BUILDER OF THIS WEBSITE IN ANY WAY CONNECTED TO THE WINANS. Thank you for reading this message and for visiting this website.
Some of the music used on this site has been retrieved from bmgmusic.com, walmart.com, and songsearch.net (cdsampler.com).