Will You Be Ready?

This album is one of my first Commissioned favorites. This album was released by Light Records in 1989. It starts off with "So Good to Know (The Savior)", a Commissioned hit, written by Michael Brooks and Mitchell Jones. It is one of my first Commissioned favorites. It starts off with the synthesizer organs that were popular in the late 80s and early 90s. Then the song blasts off with the signature Commissioned sound. "Waiting To Hear From You" is another favorite of mine. I love how the synthesizer sounds, and also the harmonic voices of the Commissioned Westside Choir (made up of Commissoned, Witness, Parkes Stewart, Sharon Page, and Byron Cage) in this song. Another favorite of mine are the xylophone sounds in "Don't Worry". "Save Me Now", the next track is sung by Fred Hammond (with an updated version on Fred Hammond's In Case You Missed It And Then Some, sung by Howard Smith and and Lisa Scott-Bailey. Another big favorite of mine is the song "Will You Be Ready". It is sung by Keith Staten, and is also one of my favorites. It is Commissioned's first live recorded song to appear on one of their albums. "Lord Jesus Help Me (Help Somebody Else)", sung by Fred Hammond is also a favorite of mine. "More Than You'll Ever Know" is another favorite of mine, I especially like the alto saxophone played by Dave McMurray, along with the voice of Keith Staten. But my last big favorite is "A Praise for You", written by Fred Hammond, especially the last half (which some of the words were taken to make up Fred Hammond's song "Let Me Praise You Now" from his album "Purpose By Design).

This was the first Commissioned album to include additional guest singers. They included close Commissioned friend Parkes Stewart, Byron Cage, Sharon Page, and Witness (They also help make up the Commissioned Westside Choir)

This album hit #6 In Billboard Top Gospel Albums and #26 in top CCM albums in 1989.

Commissioned from top-left to bottom-right: (top row)Michael Williams, Michael Brooks, Fred Hammond,(bottom-row) Karl Reid, Keith Staten, Mitchell Jones.

Selected Sample Tracks

So Good To Know (The Savior), Waiting To Hear From You, Don't Worry, Save Me Now, Will You Be Ready?, Lord Jesus Help Me, Let's Not Crucify Him Again, More Than You'll Ever Know, Take Your Burdens (To The Lord), A Praise For You

Background Track: "If My People" by Commissioned (lead vocalists: Mitchell Jones, Fred Hammond; written by Fred Hammond; from their album Ordinary Just Won't Do)

ORDINARY JUST WON'T DO

This is a great album. It is full of nice tracks. "Back in the Saddle" is the first track. I like this song, especially the electric guitar (played by a man named Brad Johnson). I also like they incorporate "oh, oh, oh, giddy-up" into the song. Its was prettty smart and witty if you ask me. "Ordinary Just Won't Do" is my favorite song by Commissioned and was my first favorite song by this group. Written by Mitchell Jones and Parkes Stewart, who also sings as a background vocal, this is a very beautiful song, with lead vocals Mitchell Jones and Keith Staten, consecutively. "If My People" is another of my favorite songs on this album, it has a sort of urban touch in this song, i like the outstanding drumming of Michael Brooks. "Heart of Mine" written by Fred Hammond, is sung by Karl Reid, with nice-singing on his part, although I think the song could've been touched up a little. "A Life That Shows" is another of Commissioned's nice harmonic songs on this album. I like the last part, "let your light so shine, before -- All Men! Let It Shine..." "No More Loneliness" is another song written by Mitchell and Parkes. This song is another favorite of mine on this album. I like how this album starts off with bongoes, and the harmony of Commissioned, and how Keith Staten picks up the lead and just snaps! I love this song! Commissioned did a great job on this song! I like the song "It Was You" written by Karl Reid. Karl sings it beautifully. "There's No Excuse" features some nice tenor singing by Keith Staten. "Here I Am (More Than A Conqueror)" sounds good!!! I like How Michael Brooks starts off a nice melody on the piano, And Fred Hammond's lead singing on this track. I also like how Commissioned later comes in ("I'm More Than A Conqueror") - it sounds nice!

Ordinary Just Won't Do

Sample Tracks from cdsampler.com

State of Mind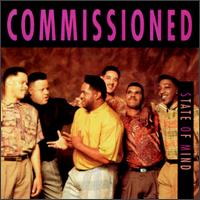 This was the first of Commissioned's albums from Benson Records. Some big hits on this album are "I Will Never Leave You", "'He Set Me Free", "Let Me Tell It", "I Am Here", and "Everlasting Love". On the opening track, "He Set Me Free" and also "Somebody's Watching You", Michael Brooks really shows that he can compose and play the keyboards (especially with those melodies which are reminiscent of old video games and thundering classical performances, although they may make you laugh or eventually sound corny after hearing them several times). They're still nice performances by the Commissioned vocals. "Let Me Tell It" was written by Fred Hammond, and is one of their hits. It is sung by Fred Hammond and Keith Staten, with remakes of this song on Fred Hammond's "In Case You Missed It" and the Commissioned Reunion. "I Am Here" is another big favorite of mine, written by Mitchell Jones and Parkes Stewart. This song is a Commissioned Great! I love the lyrics, and the harmony in the song. "Everlasting Love" is written and sung by Karl Reid, and features Dave McMurray on the alto saxophone. "Back to My First Love" is a very nice song, lead by Fred Hammond and backed-up by Commissioned.
This was Michael Brooks' last album as a member of Commissioned to date.
This was Keith Staten's last appearance on a Commissioned album until the Commissioned Reunion in 2002.
Selected Sample Tracks from cdsampler.com
Commissioned's album, State of Mind, is the last album that Michael Brooks has been in with Commissioned.
State of Mind, which was released in 1990, was also the last Commissioned album that Keith Staten appeared on until the Commissioned Reunion, released in 2002 (12 years later).
©2003-2010, by J. Lawrence. All Rights Reserved

PLEASE DO NOT PLAGARIZE MY TEXT AND ALBUM NOTES!!!

Contact information: This site made by J. Lawrence

email: thewinans_commissioned@yahoo.com

When emailing, please use a subject line that relates to Commissioned.

THIS IS NOT COMMISSIONED'S OFFICIAL WEBSITE (NOR IS THIS THE OFFICIAL WEBSITE OF ANY OF COMMISSIONED RESPECTIVE MEMBERS), NOR IS THE BUILDER OF THIS WEBSITE IN ANY WAY CONNECTED TO COMMISSIONED. Thank you for reading this message and visiting this website.

Note: PLEASE DISREGARD ALL ADS.

The author of this site has no control over what ads come onto his site, and is very sorry for this inconvenience. (My site is much more enjoyable with some form of pop-up or ad-blocker)