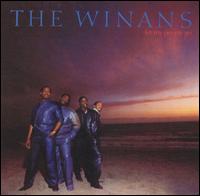 Background Track: "Choose Ye" by The Winans; Lead vocals: Marvin Winans and Vanessa Bell Armstrong (written by Marvin Winans; originally from their album Let My People Go (copyright Qwest Records (distributed by Warner Brothers), 1985); features various Winans family members, Tim Bowman, and Percy Bady in the background choir)
Let My People Go
Qwest Records (1985)
Produced by Marvin Winans for Selah Records.
Co-Produced by Carvin Winans and Barry Hankerson.
Associate Producers: Ronald Winans and Michael Winans.
Executive Producers: Barry Hankerson and John Brown.
This is the first of the Winans' albums on Qwincy Jones' label, Qwest Records. At this time, they also became nationally known as this major album debuted. Some of the best tracks on this album are "Choose Ye", featuring Vanessa Bell Armstrong with Vickie, Regina, BeBe, Angie & Debbie Winans singing as background vocalists. "Redeemed" is a stirring song sung by Ronald Winans. "Perfect Love" is a song also played by Howard Smith (I personally like his version better). "Straighten My Life Out" is like a prayer song, sung by Marvin Winans. "Let My People Go", a song about freedom speaking of the evils of apartheid in South Africa and Poland with references to the children of Israel and Pharoah. "I'll Follow Where You Lead" is another stirring song, sung by Carvin Winans. "Special Lady" is sung by Carvin and Marvin Winans, and the song is dedicated to their grandmother who died in 1984. "Very Real Way" is another favorite of mine, a Winans trademark with its great nice brass melodies, up-tempo beats, and bass stints.
This album lead to the Winans winning a Grammy in 1986, and a # 1 spot on the Billboard Gospel Chart.
Musicians:
Davey Ervin: Keyboards, Synthesizer Programming
Denzil "Broadway" Miller: Keyboards, Synthesizer Programming
Percy Bady, Marvin Winans & Michael Wycoff: Keyboards
Jerry Kaywell & Hk Sound: Fairlight
Jeff Fair & Billy Penn: Synthesizer Programming
Dean Parks: Guitar
David Winans: Guitar
Freddie Washington: Bass Guitar (On Track "Let My People Go")
Andrew Gouché: Bass Guitar
James Gadson: Drums, Drum Programming
Arnold Ramsey: Drums
Paulinho Dacosta: Percussion
David D: Saxophone
Background Choir On "Choose Ye"
Percy Bady, Tim Bowman, Becky Franklin, Andrew Gouché, Jackie Irby, Debbie Leakey, Gerri Mathis, Sherry Walker, Angelique "Angie" Winans, Debbie Renee Winans & Vickie Winans
Additional Background Vocalist:
Bebe Winans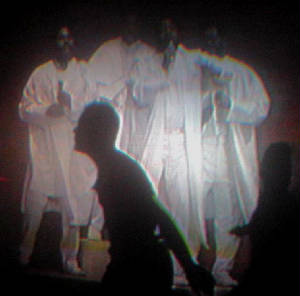 Foggy Picture of The Winans singing "Let My People Go" at the 1986 Stellar Awards