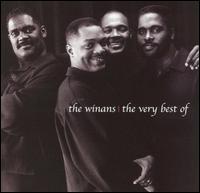 The Winans: Ronald, Michael, Marvin, Carvin (from L to R)
Background Track: "Restoration"; Lead vocal: Marvin Winans (written by Marvin Winans; originally from their album Introducing The Winans (copyright Light Records 1981), also appears on The Very Best of The Winans (Copyright Rhino/Warner Brothers, 2002))
This album was released on April 16, 2002 by Rhino and Warner Brothers Records. It contains some nice tracks by the Winans. They have been remastered to have a better sound quality than the original songs. This album is focused on their greatest hits from their Introductiory album, "Introducing the Winans", to their album All Out.
I really like this album, especially how the Shorter Version of the track "Let My People Go" was inserted into this album. It really sounds good, and takes out the percussion solos before and in the middle of the song. It is nice to hear the tracks play with the same audio quality, without having to turn up the the volume on a song like "Long Time Comin' (Holdin' On)" and then toning it down a bit on "Everyday The Same". The arrangers and producers of this CD did a great job, and made the CD sound like an original album instead of another "Greatest Hits" compilation. The album really shows how The Winans' music has progressed over the years.

Tracklist: (Sample Tracks too)

2. Restoration

3. Long Time Comin' (Holdin' On)

4. Tomorrow

5. Uphold Me

8. Choose Ye

12. It's Time

13. A Friend

15. When You Cry [Single Version]

16. Payday

If I were to create a Very Best of the Winans Concert, I would use background vocals, along with the Winans, like how Radical For Christ was used in the Commissioned Reunion.

I was thinking of:

Karen Clark-Sheard and Dorinda Clark-Cole (Clark Sisters)

Keith Staten, Mitchell Jones, Karl Reid, and Marcus Cole (Commissioned)

-and-

Angie, Debbie, BeBe, Daniel, and/or Winans Phase 2.

The Winans: (L to R) Carvin, Ron, Michael, Marvin



In spite of Ronald's death in June, I'd still like to see a Winans Reunion take place.

It seems like Daniel may be singing with The Winans now.

I think that BeBe Winans would sound really nice in a remake of J-E-S-U-S.

A partial list of tracks I'd like to see included in on album of this type:

*The Question Is

*Restoration

*J-E-S-U-S (I like the version from when they were Live In Concert on their video in 1988)

*A Sort-of Medley or Compile of the songs (like on the Commissioned Reunion) > Are We Really Doing Your Will?, Finders Keepers, Long Time Comin' (Holdin' On), You Are Everything To Me, For We May Never Know, Redeemed, Bring Back The Days of Yea and Nay, Straighten My Life Out, and Love Has No Color

*If I Ever Fall

*Right, Left In A Wrong World

Don't Be Deceived

*Paradise

Heart & Soul

*Very Real Way

*Let My People Go

*Heaven Belongs To You

*A Friend

*Choose Ye

*Give Me You

*A Smooth Medley/Compilation of Hits (like the Commissioned Reunion) < How Can You Live Without Christ?, Millions, Tomorrow, I'll Follow Where You Lead, Wherever I Go, Gonna Be Alright, When You Cry, Ain't No Need To Worry (featuring either CeCe or Anita Baker)

*Please Believe In Me

*It's Time, Payday, and That Extra Mile

*Yeah Yeah Yeah

*Indicates songs I'd really like to see on this type of album

The Winans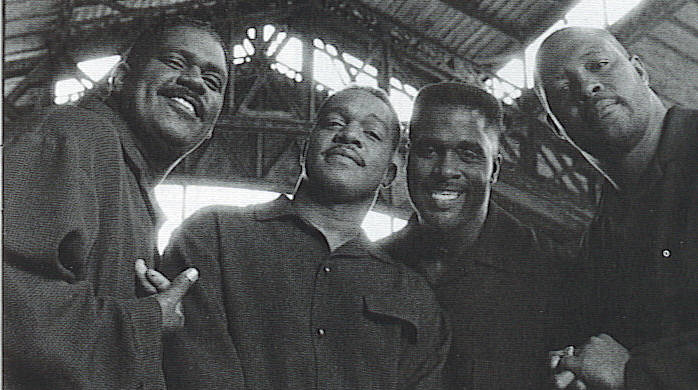 (from Left to Right:) Ronald, Michael, Carvin, and Marvin Winans
Contact information: This site made by J. Lawrence
When emailing, please use a subject line that relates to The Winans. THIS IS NOT THE WINANS' OFFICIAL WEBSITE, NOR IS THE BUILDER OF THIS WEBSITE IN ANY WAY CONNECTED TO THE WINANS. Thank you for reading this message and for visiting this website.
Some of the music used on this site has been retrieved from bmgmusic.com, walmart.com, and songsearch.net (cdsampler.com).